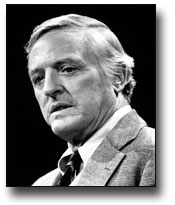 1925-2008
I must say that my favorite T.V. show since High School was Firing Line. I never missed a single airing of this show. Mr. Buckley was the quintessence of the conservative Christian gentleman, with a manner that was congenial and unpolished. He was no polished media personality, like a lot of impeccably-groomed talking heads on CNN and Fox News. No, he was a man who seemed to feel comfortable and relaxed, and yet with that fine air of aristocratic nonchalance that made one feel both awed and at ease.
By far the most memorable interview he did was with Malcolm Muggeridge in 1981. I saw reruns of it years later, and it was like being a fly eavesdropping on a private conversation between two giants on faith, truth and the body politic!
Requiem aeternam dona ei, Domine, et lux perpetua luceat ei. Requiescat in pace!
(Rest eternal grant unto him, O Lord, and let light perpetual shine upon him. May he rest in peace)
Memory Eternal! Memory Eternal! May his memory be eternal!